---
Churches - Freecycle - Heslington - Schools - Shops
---
Local Churches
Heslington Church
Heslington Church is a local ecumenical partnership between the Church of England and the Methodist Church together with the Roman Catholic Chaplaincy to the University of York. All services of worship are held jointly between Anglicans and Methodists. Our congregation is an eclectic mix of ages, backgrounds and nationalities. We seek to be an open, caring and inclusive church and everyone is welcome to worship with us. This website gives you a glimpse of our church life to help you find fellowship among us and so feel part of this church community.
You can find the church website here: Heslington Church Website
York Elim
We are an Elim Pentecostal Church, an assortment of different types of people, of many nationalities, who can say from experience that Jesus is real and has changed our lives. Our meetings are informal – with lively, spirit-led worship. Ours is an easy place to meet new friends and learn more about Jesus. Children, youth and students are warmly welcome.
Every Sunday morning we meet at Archbishop Holgate's School, Hull Road at 10:30am for our Teaching Service.
You can find the church website here: York Elim Website
---
Churches - Freecycle - Heslington - Schools - Shops
---
Freecycle
York Freecycle
York Freecycle matches people who have things they want to get rid of with people who can use them. Our goal is to keep usable items out of landfills. By using what we already have on this earth, we reduce consumerism, manufacture fewer goods, and lessen the impact on the earth. Another benefit of using Freecycle is that it encourages us to get rid of junk that we no longer need and promote community involvement in the process.
York Freecycle was founded in 2005, and now has over 20,000 members. This makes us one of the largest Freecycle groups in Yorkshire.
Our website is at http://groups.yahoo.com/group/york_freecycle
There are a few ways to join the group, so we've written a simple how-to page for joining. It's at www.yorkrecycling.net/freecycle
---
Churches - Freecycle - Heslington - Schools - Shops
---
Heslington Village
The beautiful and historic village of Heslington is less than a mile away from Badger Hill and has several banks, a post office, two pubs, a primary school and an excellent shop/delicatessen (Browns) and more. For full details of what the village has to offer press on the link below:
Heslington Village Amenities
---
Churches - Freecycle - Heslington - Schools - Shops
---
Schools
Archbishop Holgate's School
For parents with children aged 11-18 Archbishop Holgate's school, situated on the edge of Badger Hill, offers an excellent option for secondary education up to A-level standard. The school now also provides sixth-form education for its pupils due to recent expansion of its teaching facilities.
As the school's welcome page on its website indicates, being a Church of England school, Archbishop Holgate's is committed to an ethos in which Christian values are lived into being. The school's aim is for each member of the school community to be known as an individual and cared for as an individual. Maximum achievement is sought for each pupil at all levels in an ordered working environment. There is continuing commitment to further developing the school's values and its pastoral care. The achievement of pupils lies at the heart of the school's new status as a Voluntary Aided school.
As a resident of Badger Hill details on enrolment and all aspects of school life at Archbishop Holgate's school can be found in the link to the school's website below:
Archbishop Holgate's school
A summary of the school's performance in comparison with similar schools across the country for 2009 can be found at:
Archbishop's League Table
Badger Hill Primary School
For parents with children of primary school age Badger Hill Primary offers an excellent option on our doorstep. The school enjoys many educational and sporting links with Archbishop Holgate's School. The school has a pupil population of about 150 with diverse cultural backgrounds. The school's ethos is that "children learn best when school and home work together for their benefit." When your child starts school, they say, it is not where your job ends and our job starts, it is where our job begins and yours continues.
For detailed information please visit the school's website at Badger Hill Primary
Little Badgers Pre-School
For pre-school age children Little Badgers pre-school provides a safe and stimulating environment where children are encouraged to learn through play.
All sessions take place at Badger Hill Primary School. More information can be found at Little Badgers
Lord Deramore's Primary School
Some children of primary school age living on Badger Hill attend Lord Deramore's, which is opposite Heslington Church.
This school is a co-educational school maintained by the City of York Council. It caters for about 200 children aged between four and eleven. The school has served the community of Heslington since opening its doors in 1856. The school's community is diverse, and welcomes children from a wide range of cultural backgrounds – many of whom are associated with the University of York.
For full details of the school please visit their website at Lord Deramore's School
Heslington Pre-School
We are based at Lord Deramore's Primary School. Our staff work together with parents and carers to create a caring environment. Our main priority is for the children to feel secure, happy and confident as they take their first steps towards independence. As a registered charity and member of the Pre-school Learning Alliance (PLA), we share their ethos of enabling children to learn through play and to develop their potential at their own pace. We are registered under the nursery grant scheme and our curriculum is based on the early learning goals of the Foundation stage of the National Curriculum. We are inspected by Ofsted and have comprehensive policies and procedures in place.
We have an excellent team of caring, experienced and well-qualified staff. Our key person system ensures that each child has one member of staff who is responsible for them. They will work together with the parent/carers, keeping them well informed of their child's progress and of the care provided.
We offer pre-school sessions each morning, 9am-12pm and on Thursday afternoons 12noon-3pm for children aged over 3 years. We run an early starters session on a Tuesday afternoon, 12.30pm-3pm for children aged over 2½ years. Our Toddler Group is held in the Kabin on Monday mornings from 9:00am-10:45am.
Tel: 07708 155484 - Email: hbhpreschool@gmail.com
Registered charity No 1018521 Ofsted No 321542
---
Churches - Freecycle - Heslington - Schools - Shops
---
Shops
Situated on the Yarburgh Way shopping complex, Badger Hill benefits from having nine excellent and friendly local shops that serve our community.
We strongly encourage all residents to support these local enterprises as they form a focal point for community life and provide a valuable opportunity to meet fellow Badger Hill people.
Mr. Snips
Mr Snips is a unisex hair stylist shop also providing Blades Hair design (creative colouring & cutting).
Opening times:
Mon 9-1.00pm
Tue, Wed, Fri 9-5pm
Thurs 9-3.00pm
Sat 9-1.00pm
Tel: 01904-414912
Badger Hill Butchers
Badger Hill Butchers is a friendly family-run shop that offers a range of fresh and locally-sourced meat products, sandwiches, pies and farm eggs.
Opening times:
Mon, Tue, Thur 8-4.00pm
Fri 7-4.00pm
Wed 8-1.00pm
Sat 7-12.30pm
Tel: 01904-411897
Salon 33
Salon 33 Ladies and Gents Hairdressers offers a full range of hairdressing services.
Opening times:
Tue, Thurs, Fri 9-5.00pm
Wed 9-3.00pm
Sat 9-2.00pm
Tel: 01904-422777
Badger Hill Pharmacy
Badger Hill Pharmacy's aim is to "provide the highest standard of care to the local community."
Opening hours:
Mon-Fri 9-6.00pm
Sat 9-12.30
Tel: 01904-414912
Website: Badger Hill Pharmacy
York Tackle
York Tackle is one of the biggest and longest established tackle shops in the York area specialising in coarse, carp and predator fishing.
Opening hours:
Mon-Sat 8.30 to 5.00 pm.
Telephone: 01904-411210
Classic Rooms and Fireplaces Ltd
York's premier fireplace showroom offering an award winning range of gas and electric fires and surrounds.
Opening hours:
Mon-Fri 10-5.00pm
Sat 10-3.00pm
Tel: 01904-410361
Website: Classic Rooms and Fireplaces Ltd
Concept Hair Design 29
Concept Hair Design is a new and friendly provider of unisex hairdressing services.
Opening hours:
Mon 9.30-5.00pm
Tue, Wed, Thurs 9.00-5.30pm
Fri 9.00-5.00pm
Sat 9.00-4.00pm
Tel: 01904-412277
Costcutter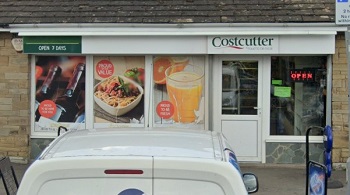 Costcutter is Badger Hill's friendly 'proud to be local' shopping outlet offering a wide range of food, fruit and vegetables, newspapers and magazines, cards, confectionary and wines & spirits.
Opening hours:
Mon-Sat 7.30am – 9.00pm
Sun 8.00am-6.00pm
Telephone: 01904-849200
Badger Hill Bakery
Badger Hill Bakery is the longest running established bakery in York, providing bread, savouries, confectionary, freshly-made sandwiches and hot drinks. It also provides delivery rounds to the wholesale trade.
Opening times:
8.45-5.00pm Mon-Fri
8.45-11.30am Sat.
Telephone: 01904-411481
---
Churches - Freecycle - Heslington - Schools - Shops